These days, online learning is more important than ever, but it creates new challenges for many students and educators.
That's why we've designed Online Tutoring Essentials: to equip tutors with the critical knowledge they need to support students through better online tutoring experiences.
With modules focused on online session preparation, active learning, goal setting, and communication, this self-paced, interactive course includes everything tutors need to confidently create a collaborative and engaging online tutoring space.
Online Tutoring Essentials was reviewed by faculty and staff from organizations such as West Virginia University, University of Florida University Athletic Association, and Tallahassee Community College.
Online Tutoring Essentials is part of the Tutor Essentials program, the only web-based tutor training course aligned to College Reading and Learning Association (CRLA) Certification topics, and is specifically aligned to the Association of Colleges for Tutoring and Learning (ACTLA) Online Tutoring Standards
Looking for more tutor training options? Check out Tutor Essentials, the only web-based tutor training course aligned to the training for College Reading and Learning Association (CRLA) Certification.
Join the growing list of schools using
Online Tutoring Essentials!
"The Online Tutoring Essentials course is a great tool to empower your tutors to move their tutoring skills from face-to-face to online. I love how it provides tutors with tools they can implement immediately to make their online tutoring more personable and more active."
"We used the Online Tutoring Essentials program from TMS a few months ago with our new hires. In short: FANTASTIC! As I conducted observations in October and November, I noticed a significant (positive) difference in performance, for all tutors who completed the TMS program, compared to the tutors returning from last year, who had just done our in-house training! I am so pleased! Money well-spent!"
"I thought it was very beneficial! I feel as if the learning module explained a lot of cool features of online tutoring as well as gave good tips on how to make sure communication remains clear and open."
Why choose Online Tutoring Essentials?
With Online Tutoring Essentials, tutors will be able to:
Develop skills anytime, anywhere with on-demand, self-paced training

Quickly and seamlessly transition from in-person to online tutoring sessions

Apply new tools and techniques to create an engaging online learning environment

Navigate the latest in online tutoring best practices, platforms, and technology

Troubleshoot tech issues and other online learning pitfalls

Deliver quality online tutoring that supports students' academic success
What's Inside Online Tutoring Essentials?
Advantages and Challenges of Online Tutoring

Topic 1: Learning Feedback Loop

Topic 2: Before the Session – Opening Communication with your Tutee

Topic 3: During the Session – Communication in an Online Tutoring Platform

Topic 4: During the Session – Group Tutoring

Topic 5: After the session – Feedback Loops and Booking the Next Session

Topic 6: After the Final Session – Saying Goodbye and Leaving Reviews

Topic 1: Online Tutoring Platform (OTP)

Topic 2: Preparing the Room Using Intentional Design

Topic 3: Preparing for Your Session

Topic 3a: Individual Tutoring

Topic 3c: Drop-in Tutoring

Topic 4: Hardware and Troubleshooting

Topic 1: Building Rapport with your Tutee

Topic 2: Interactivity in Online Tutoring

Topic 3: Deep Learning Online

Topic 4: Addressing the Needs of a Variety of Students

Topic 1: Managing session time

Topic 2: Setting Proper Expectations

Topic 3: Asynchronous Learning Outside the Tutoring Session
Training one tutor or training a team?
We have pricing options that work for you, starting at $15 per tutor. 
Questions? Contact us to discuss pricing options.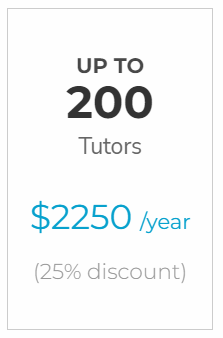 Ready to get started? See for yourself why 2000+ tutors from 67 schools have sharpened their skills with training from Online Tutoring Essentials.